Learn Hebrew with Israel's Quickest Curriculum...
Learn How To Read Hebrew
In Just 2 Hours.
Guaranteed.
Do you dream of reading the Hebrew Bible (Tanakh) in the original Hebrew?
Do you want to feel more at home when you are in Israel?
Do you wish you could follow the Hebrew prayers in synagogue?
Instant Hebrew is the course you have been waiting for.
In Just 120 Minutes
Instant Hebrew Will Teach You How To:
Read the Hebrew of the Bible.
Follow along during Hebrew prayers.
Impress your friends and family.
Feel more at home in Israel.
Start teaching your children to read too!
Imagine being able to read Hebrew words on your own! Open the door to the ancient Hebrew of the Bible as well as to the modern Hebrew spoken in Israel.
No Other Course Can Help
You Read Hebrew So Quickly
Unlike most online language courses, Instant Hebrew is not an audio collection or a series of workbooks to fill out. Instant Hebrew is a one-of-a-kind online video course that combines the intimacy of private study with the availability of an online classroom.
That means that Instant Hebrew is:
Fast: Learn all you need to know to read Hebrew, and more, in just 2 hours. No one else can make that claim!
Easy: Just like watching TV!
Flexible: Watch the course videos whenever YOU want, as often as you like.
Enjoyable: Find a pleasant spot, put your feet up and start learning Hebrew.
Try It Yourself And See:
Connect With God's Language!
Does Biblical Hebrew look like gibberish to you? Imagine opening a Hebrew Bible and being able to read every word.
Start reading the Bible in Hebrew and better understand God's meaning.
Gain even more inspiration from your Bible studies!
Visiting Israel? Be Prepared.
If you are planning a trip to Israel, this course is an absolute must for you. Why feel like a stranger in the Holy Land? Instant Hebrew will prepare you to read Israeli street signs and restaurant menus.
Enjoy touring the land of Israel and walking in the footsteps of the Patriarchs knowing that you can read the language they spoke.
Don't Miss Out!
Join the thousands of
people who have already


chosen Instant Hebrew

to learn how to read Hebrew.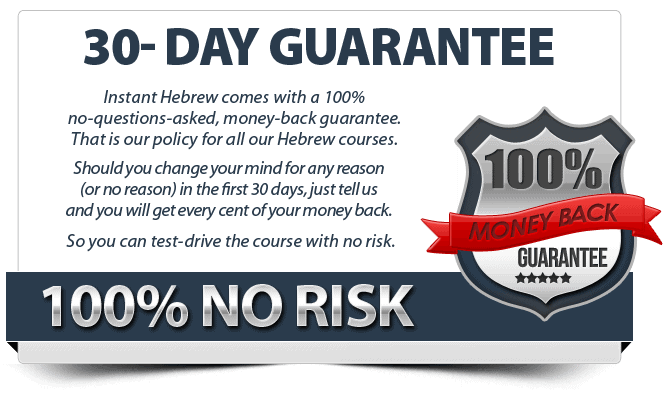 Your Payment is Safe and Secure

We use PayPal for processing membership payments. PayPal is one of the most well-known, trusted, and safe ways to buy online. Your payment information is never revealed to us or anyone else.
Feel safe knowing that your payment is being processed by world-class experts in security.
Instant Hebrew Is Available Now!
It takes just a few minutes to place your order, and then you will be sent an email with instructions on how to access the course immediately.
Register now to get the course that will teach you how to read Hebrew fast.
Learn to read Hebrew today for just $37!
Click here now to begin: